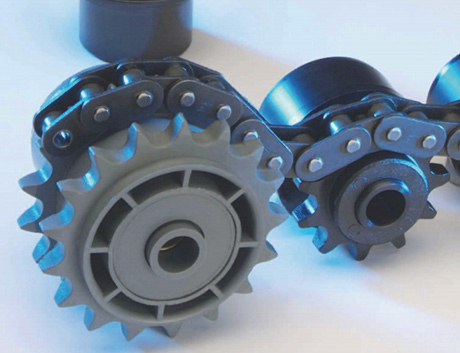 ROLLER SPROCKET
CONVEYOR DRIVES
In terms of value for money, MRT conveyor drives are extraordinary. With benchmark quality and expert support, you are guaranteed the very best solution for all of your conveyor needs.
How do we deliver such high quality at competitive prices? Answer: We own one third of the company that manufactures the components in Germany. We have ongoing input into the design features of these components, and we are proud to bring them to the Australian market.
You wouldn't go anywhere else for conveyor drives. Call us.
Compatibility of Our Rollers, Chain Sprockets, and Drives
With a large range of drive options and an extensive selection of complementary roller sprockets and conveyor components, there is very little we can't upgrade easily and quickly – and for a competitive price.
Our drives will slot right into most conveyor systems, providing an immediate improvement in performance and ROI.
The MRT Range of Drives, Rollers, and Sprockets
MRT offers a broad range of drives covering:
Sprocket drives:
Lightweight polymer rollers in PVC, PP and nylon. The standard colour is blue, and we can include black or grey. Custom colours are available. Our most popular rollers feature dual race bearings, providing four bearing races per roller, giving unmatched reliability and load bearing capacity.
High load steel rollers.
Stainless-steel roller options.
All standard sizes and specifications.
Passive (gravity system) or driven (chain, line-shaft, synchro-belt, micro-belt etc.)
Synchro-belt drives:
Good wear capabilities lead to a high life expectancy for all components.
Suits all high performance and synchronised operation machine builders requiring roller drives.
Small, medium, to heavy loads.
Single machined tooth form for overlap belt drive configurations.
Universal rollers (multi-directional)
Passive or driven (line shaft, in primary direction only).
Barrels can be provided in a variety of materials.
Stainless-steel pins.
Easy wash housing design.
Low marking on cardboard or soft materials.
Micro v-belt drives:
Steel and stainless-steel options.
Smooth running and quiet.
Compact and versatile.
Roller Chain sprocket drives:
Rollers run smoothly and quietly with our roller sprocket drives.
Upgrade older style polymer sprockets with our steel machined sprocket drives, suitable for medium loads and medium to high speed roller systems.
Welded versions are available.
These roller chain sprocket drives are compatible with most tube sizes and types.
In addition to this, we can specify specialist materials for unique tube roller applications:
Polymer rollers with glass ball bearings for acid environments.
Brass rollers and bearings for no-spark applications e.g. munitions.
Stainless-steel, nickel plated, zinc passivated… just ask!
High and low temperature applications.
Hygienic applications.
Quality MRT Australia Components
The quality of MRT components sets them apart from the competition. When you consider that the price is so competitive, you start to realise there really isn't much viable competition. Some of the outstanding features include:
Tight tolerances: Build tolerances are generally tighter than our competition, right across the board.
High grade materials: Polymers and steel of high quality and suited to the purpose.
Quality bearings: Exceptional quality bearings from the very best European manufacturers.
High performance: Smooth running, quiet and ultra-reliable.
Seals: Additional seals can be specified, in rubber and other materials.
Talk to us
Our level of expertise is second to none. We have been in this industry for over three decades, creating solutions across an extensive range of industries and conveyor applications. So call us to discuss your needs. Our advice is free, and it is good. Contact us now.
Polymer Sprocket:

Sprocket drive: Polymer housing, Internal Precision ball bearing – 11 tooth x ½" BS

Light – medium loads / Medium to High speed capability for smaller diameter rollers
Precision ground internal precision bearings
Single row sprocket configurations for tangential chain drive.
Fixed drive or friction accumulating options
Quiet running at most speeds
High quality inner bearing seals. Outer labyrinth seals.
Compatible for use with many tube types and sizes

IDEAL FOR :

Manufacturing, assembly, warehousing, or any application requiring good load ratings at mid-range speeds. Ideally suited to many food processing, food and beverage applications.

Suits machine builders requiring a quiet running, light weight, hi-performance sprocket drive design.

Suited to handling most unit loads (cartons, trays, bins, cases, drums).

Polymer Sprocket:

Sprocket drive: Polymer housing, Internal Precision ball bearing – 14 tooth x ½" BS

Light – medium loads / Medium to High speed capability for 50 mm – 60 mm diameter rollers
Two precision ground internal sealed bearings
Dual row sprocket configurations for loop chain drive.
Fixed drive or friction accumulating options
Quiet running at most speeds
High quality inner bearing seals. Outer labyrinth or bush type seals.
Compatible for use with many tube types and sizes

IDEAL FOR :

Most manufacturing, assembly, warehousing, freight distribution applications requiring good load ratings at mid-range speeds. Services many conveyor applications in processing or food and beverage applications.

Machine builders requiring a light weight, hi-performance sprocket drive design.

Handling virtually all mid-range loads (cartons, trays, bins, cases, drums).

Steel Sprocket:

Sprocket drive: Steel machined, Internal Precision ball bearing with 11 tooth x ½" BS

Medium loads / Medium to High speed capability for smaller diameter rollers
Precision ground internal sealed bearing
Single row sprocket configuration for tangential chain drive.
Fixed drive or friction accumulating options.
Low temperature option.
Welded version available across the range.
Quiet running at most speeds handling medium loads
High quality inner bearing seals. Outer bushes.
Compatible for use with many tube types and sizes through adapter bushes

IDEAL FOR :

Manufacturing, assembly, warehousing or any application requiring medium load ratings at mid- high range speeds. Ideally suited to many higher volume food processing, food and beverage applications.

Suits machine builders requiring a heavier duty, impact resistant, hi-performance sprocket drive design.

Suited to handling most unit loads (cartons, trays, and tyres).

Steel Sprocket:

Sprocket drive: Steel machined, Internal Precision ball bearings with 20 tooth x 3/8" BS

Medium loads / Medium to High speed capability for small to medium diameter rollers
Two precision ground internal sealed bearings
Dual row sprocket configuration.
Fixed drive or friction accumulating options.
Low temperature option.
Welded version available.
Quiet running at most speeds handling medium loads
Offered as a replacement to older polymer styles in certain industries
High quality inner and outer labyrinth bearing seals.
Compatible for use with many tube types and sizes through adapter bushes

IDEAL FOR :

Manufacturing and assembly operations or any application requiring medium load ratings at mid- high range speeds. Ideally suited for many higher volume food processors intending to upgrade older style polymer sprockets.

Suits machine builders requiring a medium duty, impact resistant, hi-performance sprocket drive design.

Suited to handling most unit loads (cartons, trays, bins, cases or drums,).

Steel Sprocket:

Sprocket drive: Steel machined, Internal Precision ball bearing, 14 tooth x ½" BS

Medium – heavy loads / Mid to High speed capability for 50 mm and 60 mm diameter rollers
Two Precision ground internal sealed bearings
Single row sprocket configuration for tangential chain drives.
Fixed drive or friction accumulating options.
Low temperature option.
Welded version available in the range.
Quiet running at most speeds handling heavier loads
High quality inner and outer labyrinth bearing seals.
Compatible for use with many tube types and sizes through adapter bushes

IDEAL FOR :

Manufacturing, assembly, warehousing, freight distribution or any application requiring higher load ratings at mid- high range speeds. Ideally suited for many higher volume manufacturers in food and beverage applications.

Suits machine builders requiring a heavier duty, hi-performance sprocket drive design.

Suited to handling most unit loads (cartons, trays, air freight, bins, cases, drums and tyres).

Steel Sprocket:

Sprocket drive: Steel machined, Internal Precision ball bearing 14 tooth x ½" BS

Medium – heavy loads / Medium to High speed capability for larger diameter rollers
Precision ground internal sealed high quality bearings
Dual row sprocket configurations.
Fixed drive welded style.
Low temperature option.
Quiet running at most speeds handling heavier loads
High quality outer labyrinth bearing seals.
Compatible for use with many tube types and sizes (50 mm – 89 mm)

IDEAL FOR :

Manufacturing, assembly, warehousing, freight distribution and courier applications requiring higher load ratings at mid- high range speeds.

Suits machine builders requiring a heavier duty, impact resistant, hi-performance and solid sprocket drive design.

Suited to handling most unit loads (Heavy jigs and trays, air freight, drums, steel cages and pallets).

Steel Sprocket:

Sprocket drive: Steel machined, Internal Precision ball bearing, 15 tooth X 5/8" BS

Medium – heavy loads / Medium speed capability for larger diameter rollers
Precision ground internal sealed bearings in a heavy pressed and plated steel housing
Single or dual row sprocket configurations.
Fixed drive welded style for heavy wall pipes.
Low temperature option.
Friction accumulating versions (low break away pressure) available across the range.
Quiet running at most speeds handling heavier loads
High quality inner bearing seals. Outer labyrinth seals protect bearing.
Compatible for use with larger diameter (89 mm) tube / pipe types and sizes

IDEAL FOR :

Manufacturing, warehousing, freight distribution, air freight or any application requiring higher load ratings at mid-range speeds. Ideally suited for many higher volume food processors, food and beverage applications or anyone conveying pallets and other heavy unit loads.

Suits machine builders requiring a heavier duty, impact resistant, hi-performance, high load sprocket drive design.

Suited to handling most heavy loads (bins, drums, steel cages, Pallets, heavy skids).

Steel Synchro drive:

Synchro Toothed Belt drive: Steel machined, Internal Precision ball bearing

Medium – heavy loads / Medium to very High speed capability for smaller diameter rollers
Two precision ground internal sealed bearings
Single machined tooth form for overlap belt configurations.
Fixed drive or friction accumulating options.
Welded version available across the range.
Quiet running at most speeds handling heavier loads
High quality inner bearing seals. Outer labyrinth seals.
Compatible for use with many tube types and sizes (50 mm – 60 mm) through adapter bushes

IDEAL FOR :

Manufacturing / assembly operations requiring high speed with good positional control.

Ideally suited to many higher volume manufacturers, food processors, and food and beverage applications.

Suits machine builders requiring roller drives where hi-performance and synchronised operation is important. Good application in high volume freight and courier parcel sorting as well as palletising machines.

Suited to handling most unit loads (cartons, trays, assembly jigs, air freight, bins, and cases, building panels).

Steel Synchro drive:

Synchro Toothed Belt drive: Steel machined, Internal Precision ball bearing

Medium – heavy loads / Medium to very High speed capability for larger diameter rollers
Two precision ground internal sealed bearings
Single machined tooth form for overlap belt configurations.
Fixed drive welded style.
Quiet running at most speeds handling heavier loads
High quality inner bearing seals. Outer labyrinth seals.
Compatible for use with larger tube / pipe types and sizes (89 mm)

IDEAL FOR :

Manufacturing / processing operations requiring high speed with good positional control.

Ideally suited for many higher volume manufacturers of heavy or bulky loads.

Suits machine builders requiring roller drives where hi-performance and synchronised operation is important. Good application in high volume movement of heavy loads and panels in processing / laminating machines.

Suited to handling most heavy or large size unit loads (Wall Panels, Laminated furniture panels, air freight cans and building panels).

Steel Synchro drive:

Synchro Toothed Belt drive: Steel machined, Internal Precision ball bearings and synchro belts

Range suits most loads for small to large diameter rollers
Two precision ground internal sealed bearings with inner and outer seals
Single machined tooth form for overlap belt drive configurations.
Fixed drive or friction accumulating options.
Synchro belt forms available to suit a large range of roller centres.
Standard belt forms available through most commercial outlets
High life expectancy from all components due to good wear capabilities.
Compatible for use with many tube types and sizes (50 mm – 89 mm)

IDEAL FOR :

Manufacturing / assembly operations requiring high speed with good positional control along with quiet operation.

Ideally suited to many higher volume manufacturers in many industry based applications.

Suits all machine builders requiring roller drives where hi-performance and synchronised operation is important.

Suited to handling most unit loads across a broad range of sizes and weights.

Polymer Micro groove drive:

Micro Grooved "V" Belt drive: Polymer moulded, Internal Precision ball bearing

Light – heavy loads / Medium to very High speed capability for smaller diameter rollers
Precision ground internal precision bearings
Multiple grooved "V" belt form for use with "Poly V" belts.
Fixed drive or friction accumulating options.
Used in conjunction with 24 Volt DC motor rollers.
Quiet positive running at most speeds handling heavier loads than normally possible with other types of roller drive.
Enables low profile conveyor designs to be incorporated.
High quality inner bearing seals. Outer labyrinth seals.
Compatible for use with many tube types and sizes through adapter bushes

IDEAL FOR :

Manufacturing / processing / assembly operations requiring high speed with excellent positional control.

No slippage or take up within the V groove design. Suited for use with very small multi-ribbed Poly V belts ("Continental" or "Hutchinson" belts)

Specialist manufacturers requiring a compact, low profile drive.

Suits specialist machine builders requiring roller drives where hi-performance and positional accuracy of light to heavy loads is important.

Suited to handling most unit loads (cartons, trays, assembly jigs, air freight, bins, cases, cylinders etc.)

Polymer Micro groove drive:

Micro Grooved "V" Belt drive: Polymer moulded drive and belt combinations

Designed for common diameter rollers 50 mm – 60 mm
Precision ground internal sealed bearings
Multiple grooved "V" belt form for use with "Poly V" belts.
Belt options in 2, 3 or more groove forms.
Wider groove form belts impart higher driving forces for special needs.
Very quiet running at all speeds with exceptionally high driving forces.
Enables low profile conveyor designs to be incorporated.
Quality seals. Quality belts (Continental and Hutchinson).
Large range of belts to suit many roller pitch combinations.

IDEAL FOR :

Manufacturing / processing / assembly operations requiring high speed with excellent positional control.

No slippage or take up within the V groove design. Suited for use with very small multi-ribbed Poly V belts ("Continental" or "Hutchinson" belts)

Specialist manufacturers requiring a compact, low profile drive.

Suits specialist machine builders requiring roller drives where hi-performance and positional accuracy of light to heavy loads is important.

Suited to handling most unit loads (cartons, trays, assembly jigs, air freight, bins, cases, cylinders etc.)