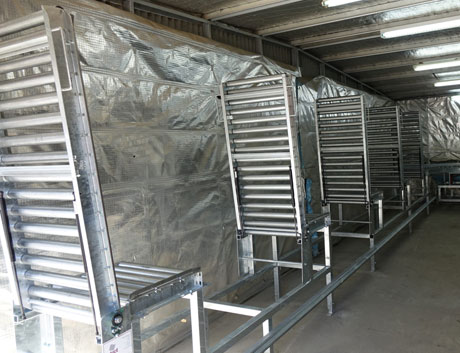 To improve, replace, or upgrade the core tray roller racking at your place of work, talk to the team at MRT Australia. We have over two decades of experience, working to find the very best solutions for our customers across industries, and across Australia.
We offer a competitive price point on high-quality components that will provide true value for money to all of our customers.
Efficient and Reliable Core Tray Roller Racking
Whether you want to improve the efficiency, the noise level, or the hygiene of your core tray roller racking system, we can help you to make it happen.
With superior German engineering, our rollers, bearings, wheels, drives, and fittings operate quietly, and with optimal efficiency, outshining the competition when it comes to price and performance.

0297711748
Request a Quote

Core Tray Roller Racking with True Tracking
When you need a conveyor system that provides true tracking and alignment for all conveyed products, you will find what you need in the MRT Australia range.
With the tapered rollers that transport medium to heavy duty loads at low to high speeds, you can always count on outstanding performance from MRT Australia components.
Quality Core Tray Roller Racking and Exceptional Customer Support
Alongside outstanding products, available at competitive prices, our customers will also find that MRT Australia offers them the very best in customer service and support.
Whether you are building a system from scratch, upgrading, or searching for quality replacement parts, we're here for you.
Find out More about Our Core Tray Roller Racking
To learn more about our core tray roller racking, or any other systems and components available through MRT Australia, simply call or email our team today.