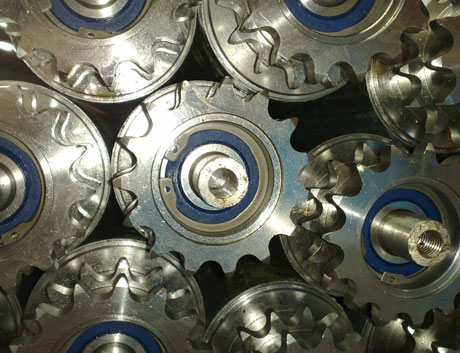 We manufacture and supply a range of heavy duty conveyor rollers for a variety of manufacturing, warehousing, and assembly applications. With over twenty years in business, providing solutions for Australian industries, you can expect innovative components and system solutions from the team at MRT Australia.
All of our rollers are assembled in Australia, using Australian materials and labour, while our exclusive parts come from our German manufacturing business, Marx-Rollentechnik. 
Affordable, and Reliable Heavy Duty Conveyor Rollers
You can have the reliability of German engineering at an affordable price when you purchase from MRT Australia. You can have confidence that MRT's heavy duty conveyor rollers won't let you down, and that they will continue to perform efficiently, and as intended.

0297711748
Request a Quote

Heavy Duty Conveyor Rollers in Standard or Tapered Design
Our range of injection moulded conical segments can be fitted to either static or powered rollers, allowing you to transport medium to heavy duty loads at low to high speeds, with true tracking on curved conveyors.
Mini styles are available for smaller products, and the conveyed products will maintain alignment on tapers up to 1,000 mm wide.
Create an Entire System with Our Heavy Duty Conveyor Rollers
Whether you require these robust, heavy duty rollers for the entire conveyor system, or only as an integrated part of the whole, the team from MRT Australia can assemble a conveyor system that will perfectly match your needs.
We work with a variety of industries to ensure they have the conveyor systems that they need to meet their everyday business needs.
Learn More about MRT Australia's Heavy Duty Conveyor Rollers
To find out more about our heavy duty conveyor rollers, or any other products in the MRT Australia range, simply contact our experienced team today.